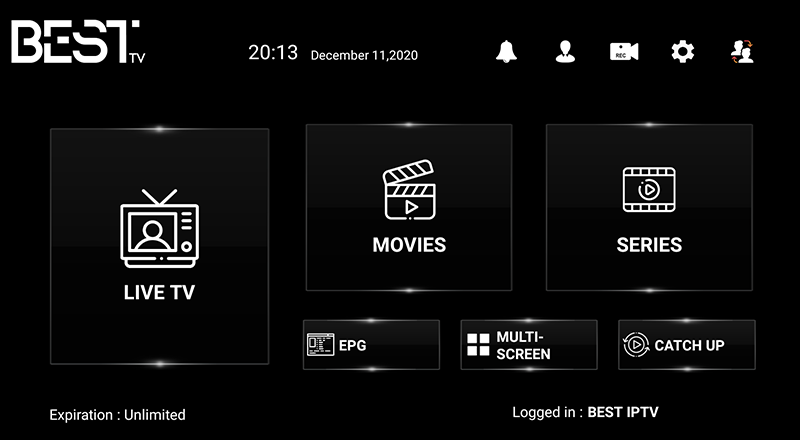 IPTV stands for Internet Protocol Television and allow users watching television programs over the internet instead of traditional satellite dishes and cable television formats. In other words, it provides users with TV programs & Videos that are either live or on demand. IPTV content delivery differs from other online platforms like YouTube or Netflix.
Live television or stream: allows users to live stream television broadcasts in real time.
Time-shifted television: catch-up TV allows users to watch previously broadcasted TV shows at a later date.
Video on Demand (VoD): Users have access to a large library of videos which can be requested to watch at will.
IPTV can be distributed locally (within the network of a specific provider), and via the Internet. Viewers benefit from an IPTV service of being able to pick the program they want to watch whenever and wherever they want (IP enabled TV, mobile phone, tablet, laptop or PC).
How does IPTV work?
IPTV is much similar like browsing the internet rather than traditional channel surfing. Contrary to traditional TV that can only broadcast content in real time, IPTV owns servers it stores content on. IPTV is a system which provides digital television service to the subscriber through Internet protocol technology via the medium of broadband or internet connection. That gives users the freedom to request to view programs at any time.
This flexibility is why IPTV stands out from traditional television and is considered to be the future of TV.

Best TV
Advantages of Best TV
With Best TV you are benefiting of our multiple advantages. By subscribing one of our packages you are not only able to watch live TV channels, but also experience our unique functions and services.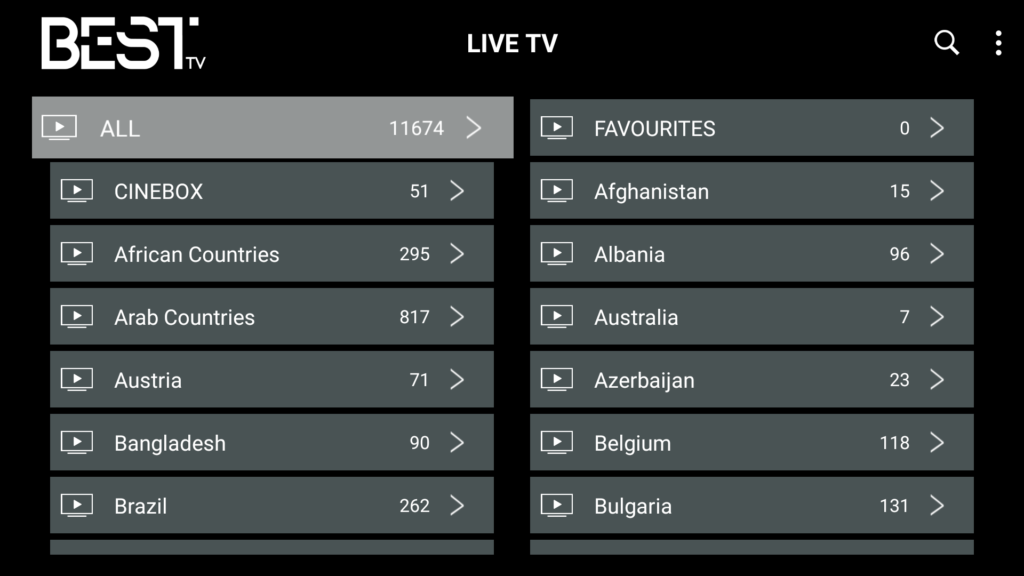 Instant Activation – Viewers take advantage of Best TVs instant activation after a subscription.
Free Activation Trial – Best TV provides a 24 hours free trial.
Several Devices – Users can watch Best TV on several devices like computers, mobiles, tablets, Smart TVs, streaming devices and gaming consoles.
Multiple Devices – Best TV is also usable on 2 devices at the same time.
+9,000 Live Streams – Best TV offers more than 9,000 channels from more than 40 countries all over the world.
VoD (Video on Demand) – Viewers are able to watch VoD with daily updates.
Time-Shifted Television: Best TV allows users to watch previously broadcasted TV shows at a later date (up to 3 days)(BETA Feature).
EPG Source– Best TV includes a complete EPG source for its users.
Bouquet Editor – Users are able to manage and customize their playlist by adding, removing and sorting categories.
24/7 Premium Support – Best TV users are able to contact our experts for any issue at any time.